About The Airpark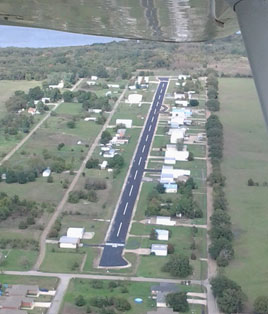 IDENTIFIER: 74XA

LATITUDE: 32-21-17.00N
LONGITUDE: 96-08-44.00W
RADIO: Unicom Frequency 122.9

AMSL: 385

RUNWAY LENGTH: 3,075 x 50

LIGHTING: PCL
100ll AV GAS
LOCATION: Gun Barrel City Airpark is situated in the heart of Gun Barrel City, Texas on beautiful Cedar Creek Reservoir. The Airpark is located only fifty-five miles Southeast of Dallas and a quick 5 minute drive to Gun Barrel City to find shops, restaurants and lake activities.
RUNWAY: Gun Barrel City Airpark sports a safe, 3,075 foot paved runway and a pilot controlled lighting system for night landings.
ORIENTATION: The single runway facility is oriented for 18 and xws36; both directions utilize a left-handed pattern for VFR landings.
Disclaimer ** GBC Airpark requires all pilots wishing to land must possess a private pilots license or better. All aircraft landing must be insured and posse a current airworthy certificate.**
The Flying Grape & Bean Bistro
We have a fantastic, Cafe/Bistro with relaxing ambiance! The Flying Grape and Bean has great decor, fantastic gourmet coffee's, fresh food and fabulous desserts. Featuring Non smoking both inside & outside. Stop in and stay for a while with our FREE WIFI~
Our Flight School
FUN 2 FLY FLIGHT SCHOOL:
"At your finger tips is a world many thought was unreachable! All of this and more awaits in the exciting world of general aviation but anyone can learn to fly with determination, dedication and a desire to reach heights you never thought possible!"
For More Information Contact:
Galen Irwin
Director of Flight Operations
903-802-8574